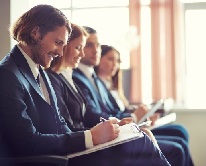 Adult Private, Semi-private, Language tutoring, Group Classes and Corporate classes.
We offer classes all year long for beginning, intermediate and advanced class levels in each language. Our instructors focus on student's objectives in learning the language. For each language we offer group and private Classes. These classes are available during the whole semester. You can enroll by the month, bi-monthly, or for the whole semester.
All language classes are conducted in the target language and are designed a holistic proficiency:
Listening Comprehension

Reading Comprehension

Grammar and Vocabulary

Writing communication

And speaking, Pronunciation-intonation (phonetic)
Student active participation is emphasized in order to strengthen oral and written communication. We offer various conversation classes: Assorted topics, Cinema classes, and Literature.
At the end of each session, students are evaluated in order to measure their level, know their progress made and to be ready for next level. Each session runs for 4 weeks or 8 weeks and all sessions run throughout the year with 2 breaks: winter break in December and summer break in August.
Languages
We offer different learning programs, please contact us for more information or to schedule an appointment.